Category:
Real Estate Market Reports
Champaign County Real Estate Market Report, June 2010
June 2010 Residential Sales Information Compared to June 2009
The following real estate market information concerns only residential sales in greater Champaign County, IL, and includes houses, condos, co-ops, and zerolots.
June 2010 Closed Sales Statistics:
374 units sold
$154,555 average sale price
96.1% sale-to-list price ratio
75 average days on the market
June 2009 Closed Sales Statistics:
325 units sold
$166,599 average sale price
96.2% sale-to-list price ratio
78 average days on the market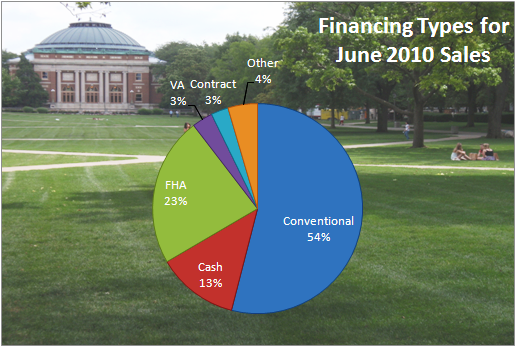 What's going on in Champaign's real estate market?
One interesting recent trend in our market is the large number of homes for sale. For the second month in a row we've ended with over 2,000 homes on the market. This time last year, that number was averaging only 1,700 and the last time we've had 2,000+ homes on the market was in autumn of 2007. Even so, based on the increased number of homes selling over the past few months, our market appears to be somewhat stable for now. And of course, low interest rates combined with a large inventory of homes for sale means it's still a great time to be a buyer in Champaign!
*Information is deemed reliable, but not guaranteed to be accurate. Statistics in this report were provided by the Champaign County Association of Realtors®.