Category:
Real Estate Market Reports
Champaign County Real Estate Market Report, July 2010
July 2010 Residential Sales Information Compared to July 2009
The following real estate market information concerns only residential sales in greater Champaign County, IL, and includes houses, condos, co-ops, and zerolots.
July 2010 Closed Sales Statistics:
175 units sold
$164,703 average sale price
96.4% sale-to-list price ratio
90 average days on the market
July 2009 Closed Sales Statistics:
337 units sold
$157,660 average sale price
95.8% sale-to-list price ratio
87 average days on the market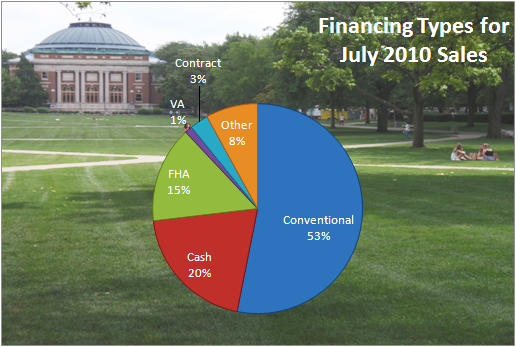 What's going on in Champaign's real estate market?
For a couple of months now I've been pointing out that the number of homes on the market has grown to over 2,000 and has stayed there, and I also noted that the last time we had this many homes on the market was in mid to late 2007. Now, if you take a look at my absorption rate chart below, you'll see that the rate for July skyrocketed up to 11.7!
What this means is that in the past month, the rate of home sales in Champaign County has slowed so that if sales were to continue at that same rate, it would take 11.7 months to sell all the homes currently on the market. Certainly, what appears to have happened is that many buyers took advantage of the first-time homebuyers tax credit and purchased early. Now that the tax credit is over, the temporary and misleading "growth spurt" in the market has ended and it may take a few months or perhaps until next year for the activity to catch up to the inventory, so to speak.
But don't think it's ALL doom & gloom around here! Sales prices have been up, we're still boasting a 96.4% sale-to-list price ratio, and the homes that sold in July only spent an average of 90 days on the market. As far as general statistics go, that ain't bad:-) So, chin up if your home is on the market. Homes ARE still selling and yours can, too! If you need help in that department, just give me a call. I'd be happy to come discuss with you what steps need to be taken in order to sell your home here in Champaign County.
*Information is deemed reliable, but not guaranteed to be accurate. Statistics in this report were provided by the Champaign County Association of Realtors®.