Category:
Real Estate Market Reports
Champaign IL Real Estate Market Report – 2010 Year in Review

It's a brand-new year, and it seems that everyone I talk to is pretty happy about that fact. Before putting 2010 completely behind me, however, I thought I'd take a quick look at the Champaign County IL market data for the year and see how it measured up to prior years.
Overview
While we had approximately a 10% decrease in total number of homes sold in 2010 compared to 2009, there was less than a 1% change in the average sale price. As a result of the decrease in sales, our home inventory remained notably high for most of 2010 and certainly presented a challenging situation for home sellers.
How 'bout that first-time homebuyers tax credit?
In looking at the number of sales by month (2nd chart below), it's obvious that the sales peaked in June, the deadline for the first-time homebuyers tax credit… and fell dramatically thereafter. The peak in the third chart for the 2nd quarter of 2010 makes the artificial inflation of home sales due to the first-time homebuyers tax credit all the more evident. So while the first-time homebuyers tax credit made a lot of first-time homebuyers in 2010 really happy, unfortunately it did nothing to stimulate the economy in any long-term sense.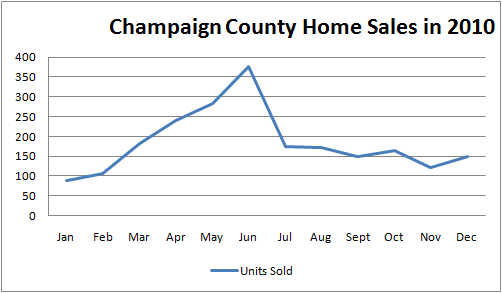 What Can We Expect in 2011?

There are many people predicting a better housing market this year…of course, those might be the same people who failed to recognize the housing crisis before we were well into it! The problem is, none of these people have a crystal ball or the gift of seeing into the future.
So my advice for potential home buyers and sellers is this: do whatever is best for you in your personal situation. Sit down with your trusted real estate agent or financial advisor and figure out what makes the most sense for you. And go from there!
Meanwhile, check back here each month for another market report and I'll keep you informed of what's happening in the Champaign-Urbana IL real estate market!
*This information is deemed reliable but is not guaranteed to be accurate. After all, I'm only human 🙂