Category:
Real Estate Market Reports
April 2011 Residential Sales Information Compared to April 2010
The following real estate market information concerns only residential sales in greater Champaign County, IL and includes houses, condos, co-ops, and zerolots.
April 2011 Closed Sales Statistics:
* 189 units sold
* $121,680 average sale price
* 95.0% sale-to-list price ratio
* 99 average days on the market
April 2010 Closed Sales Statistics:
* 239 units sold
* $146,756 average sale price
* 96.2% sale-to-list price ratio
* 105 average days on the market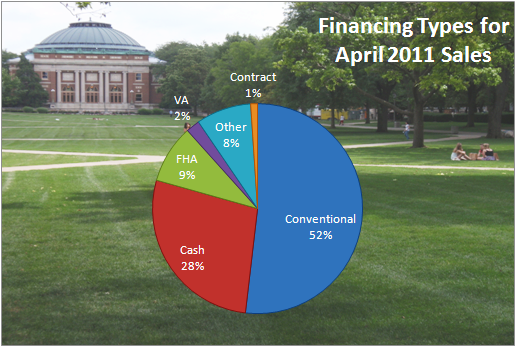 What's going on in our Champaign IL real estate market?

Sales are down for April 2011 compared to one year ago, but that isn't surprising. Last year sales peaked in June, the deadline for the first-time home buyer tax credit, and July and August were unusually slow months. Since we have no tax credit this year, we should see sales peaking in July-August, meaning that it may take a little longer this year for sales to really pick up. (To put it into perspective, there were 182 sales in April 2008 and 174 in April 2009. Therefore, it seems we're right on schedule for 2011.)
What is a little surprising, however, is the drop in average sale price. After doing some investigating, it seems that we had 49 purchases in a price range under $50,000 accounting for about 25% of the total sales this month for Champaign County. As displayed in the graph above, 28% of purchases were paid in cash, which is slightly higher than what we've typically been seeing. In all likelihood, we've had more foreclosures being snatched up by investors lately which has simply driven down the average sale price. Otherwise, the number of sales for a given price range appear to be fairly normal for the month of April.
Also, we're still seeing an inventory of just over 2,000 homes on the market. What does this mean for you? For sellers, it means that pricing your home right and having it in the best condition before putting it on the market are still crucial to getting your home sold. Being competitive is key! For buyers, it means that right now is still a great time to be able to purchase a fantastic home at a very good price, if you can afford it!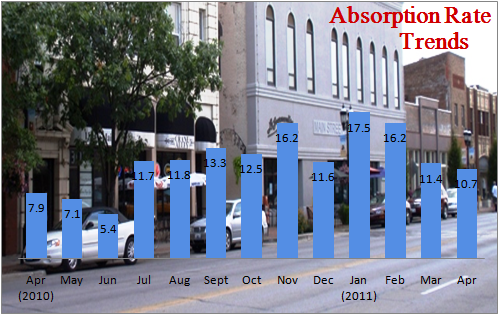 What is an Absorption Rate?

*Information is deemed reliable, but not guaranteed to be accurate.
Statistics in this report were obtained through the Champaign County Association of Realtors®