Category:
Real Estate Market Reports
June 2011 Residential Sales Information Compared to June 2010
The following real estate market information concerns only residential sales in greater Champaign County, IL and includes houses, condos, co-ops, and zerolots.
June 2011 Closed Sales Statistics:
* 303 units sold
* $138,765 average sale price
* 96.0% sale-to-list price ratio
* 95 average days on the market
June 2010 Closed Sales Statistics:
* 376 units sold
* $154,709 average sale price
* 96.1% sale-to-list price ratio
* 75 average days on the market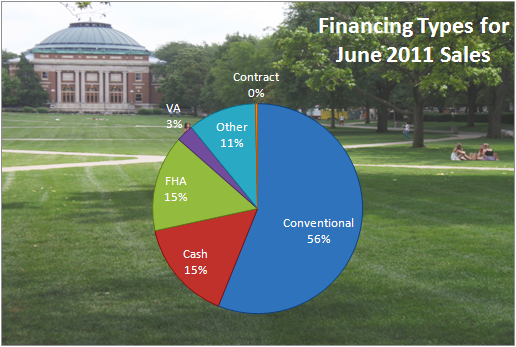 What's going on in our Champaign IL real estate market?
Once again, there's good news and there's bad news this month; let's get the bad news out of the way first, shall we? 🙂
The average sale price for closings this month is way down from where it was a year ago, and I'm going to argue that foreclosures mostly concentrated in already low-priced neighborhoods are partially, if not primarily, to blame. From January to December of 2010 we had a total of 207 residential sales in the price range of $1 – $49,999. From January to June 30th of 2011, we have already had 208 sales in that same price range, meaning we're on track to have TWICE as many sales in the lowest price range as last year. (Last year 9% of the total sales were in this price range, and so far this year 18% of the total sales are in this price range.) That, my friends, will certainly bring prices down for the year.
Now for the good news: we had 303 units sell in June 2011 compared to 376 units sold in June 2010. It may not seem like good news, but just hear me out…
Last June was the deadline for closing on a home to receive the first-time homebuyer tax credit, and then sales dropped from 376 units in June to 175 total in July, a historically low number. This year we don't have a tax credit; therefore, while our sales for June weren't as strong as last year, in all likelihood we are going to see a very strong July compared to last year. The end result is that total units sold this year very well might surpass total units sold last year. I'll talk about this more in my quarterly market report to follow soon!
*Information is deemed reliable, but not guaranteed to be accurate. Statistics in this report were obtained through the Champaign County Association of Realtors®