Category:
Real Estate Market Reports
October 2011 Residential Sales Information Compared to October 2010
The following real estate market information concerns only residential sales in greater Champaign County, IL and includes houses, condos, co-ops, and zerolots
October 2011 Closed Sales Statistics:
156 units sold
$148,184 average sale price
93.3% sale-to-list price ratio
102 average days on the market
October 2010 Closed Sales Statistics:

165 units sold
$133,365 average sale price
94.5% sale-to-list price ratio
100 average days on the market
What's going on in our Champaign, IL real estate market?

As a whole, the real estate activity in Champaign County IL for October 2011 was fairly comparable to October 2010. Total number of sales and days on the market were quite similar, though our average sale price was up compared to last October. For the year, our average sale price is still down a bit compared to last year, while total number of sales is up just a tad.
The absorption rate, as you can see below, is heading upwards for the winter as usual, but the good news is that we ended October with about 5% fewer homes on the market than we had at this time last year, and this trend is continuing into November.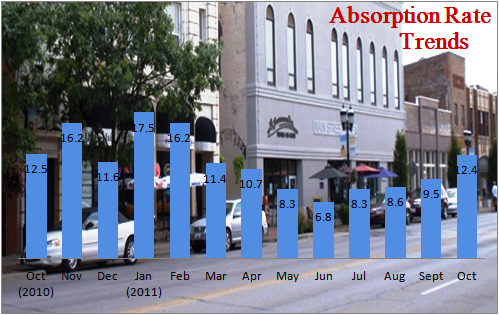 *Information is deemed reliable, but not guaranteed to be accurate. Statistics in this report were obtained through the Champaign County Association of Realtors®