Category:
Real Estate Market Reports
Another year has passed us by and we're off to a fresh, new start! Let's take one last look at 2011 and see how the year measured up in terms of the real estate market in Champaign IL…
As you can see in the above chart, we ended the year with slightly more total sales in 2011 than in 2010, up by about 4.4%, while average sale price decreased by just over 6%. All year long I've been talking about how the number of home sales in the price range of $1 to $50,000 has almost doubled for 2011 compared to 2010, and these sales, largely foreclosures, have certainly played a role in the decrease of average sale price this year.
Worth noting is that while the overall average month-end inventory was higher in 2011 than in 2010, in the last quarter of 2011 things took a turn for the better. Our inventory from October through December remained lower in 2011 than it had in the same months of 2010, meaning simply that home sellers are off to a better start for 2012 because there's a little less competition. How long the lower inventory will remain is yet to be seen.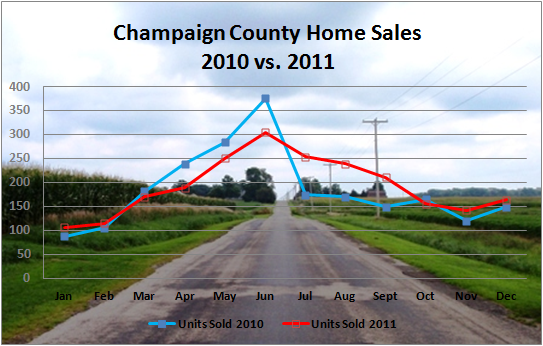 Don't forget, in 2010 we had that crazy first-time home buyer tax credit that expired in June, hence the peak (in blue) above and subsequent drop-off of sales. In 2011, there was no tax credit. Therefore, we have a much saner bell curve in red 🙂 The bell curve for 2011 and lack thereof for 2010 is even more apparent in the graph below…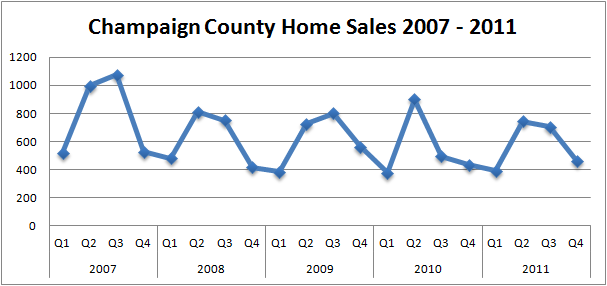 What Can We Expect in 2012?
Our average sale price peaked here in the Champaign area at $152,243 in 2007. Since then we've seen a decrease of just under 9%. Will prices continue to fall? It's entirely possible, largely because there are still a number of foreclosures lined up to hit the market this year. But just like everyone else, I don't have a crystal ball and I can't see the future. Some of the hardest hit areas in the country are seeing prices creeping upward again. Eventually, our prices will start to increase again, too…I just can't say when.
There's no denying that it's a wonderful time to buy if you have the means and it makes sense for you personally. Interest rates are still incredibly low and prices are favorable for buyers. It's still a bit of a tough time for sellers, though for some there can be huge financial advantages to selling now at current prices in order to purchase a new home at a great value. It all just depends on your situation.
Have a wonderful year, everyone, and as always, let me know if you have questions.
P.S. We publish market reports here on our blog monthly to help you keep track of the Champaign IL real estate market! Be informed and come back soon!