Category:
Real Estate Market Reports
December 2011 Residential Sales Information Compared to December 2010
The following real estate market information concerns only residential sales in greater Champaign County, IL and includes houses, condos, co-ops, and zerolots
December 2011 Closed Sales Statistics:
164 units sold
$129,688 average sale price
95.2% sale-to-list price ratio
126 average days on the market
December 2010 Closed Sales Statistics:
150 units sold
$129,087 average sale price
95.0% sale-to-list price ratio
93 average days on the market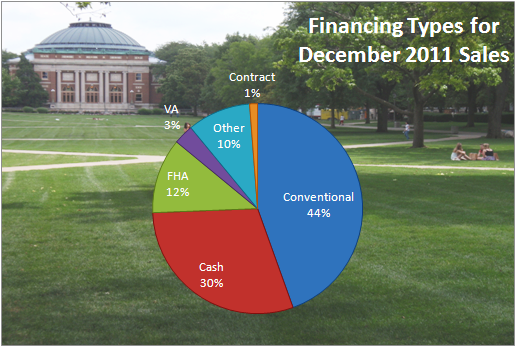 What's going on in our Champaign, IL real estate market?
Yet another December has passed us by and the month ended up looking a lot like last December…at least in terms of real estate! As you can see above, actual statistics for December 2011 were pretty similar to December 2010. Overall, days on the market has increased this year, yet we ended December with about 5% fewer homes on the market than last year and with a lower absorption rate (see chart below).
What this means is that we're off to a slightly better start for 2012, at least as far as sellers are concerned. As for buyers, keep watch on those interest rates as they've once again reached all-time lows and there's no way of knowing how long it will last.
Check out our Champaign, IL 4th Quarter and Yearly housing market reports here on our blog, too!
*Information is deemed reliable, but not guaranteed to be accurate. Statistics in this report were obtained through the Champaign County Association of Realtors®