Category:
Real Estate Market Reports
January 2012 Residential Sales Information Compared to January 2011
The following real estate market information concerns only residential sales in greater Champaign County, IL and includes houses, condos, co-ops, and zerolots
January 2012 Closed Sales Statistics:
106 units sold
$135,828 average sale price
93.2% sale-to-list price ratio
100 average days on the market
January 2011 Closed Sales Statistics:

107 units sold
$144,241 average sale price
94.9% sale-to-list price ratio
112 average days on the market
What's going on in the Champaign County, IL real estate market?

For another month now, the housing inventory for Champaign County has remained at lower levels than a year ago. We ended January 2012 with 1,741 homes on the market compared to 1,903 homes on the market at the end of January 2011. What this means is that home sellers, in general, are starting off the year with a little less competition, though, of course, the amount of competition an individual home seller faces will vary significantly from neighborhood to neighborhood. In addition, homes are currently selling at about the same rate that they were last year, which is good news in that sales were up for Champaign County as a whole in 2011 compared to 2010.
While the average sale price for the month was down a bit compared to the previous year, that doesn't necessarily mean that prices are still dropping. In fact, considering the other statistics mentioned here, it would logically follow that prices in our area would be stabilizing. 2012 will no doubt be an interesting year! (Look for another article on my blog soon where I'll break down the county statistics into a few individual cities.)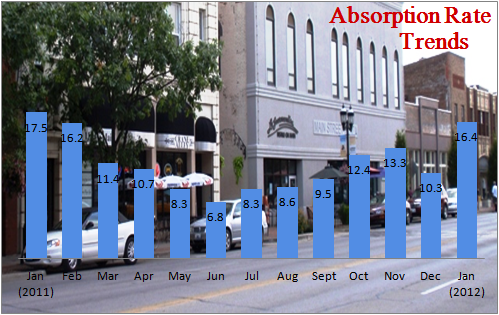 *Information is deemed reliable, but not guaranteed to be accurate. Statistics in this report were obtained through the Champaign County Association of Realtors®