Category:
Real Estate Market Reports
Home Sales Statistics: April 2012 Versus April 2011
These statistics include residential houses, condos, co-ops, and zerolots in greater Champaign County:
Home Sales in April 2012:
206 units sold
$154,570 average sale price
94.8% sale-to-list price ratio
108 average days on the market
Home Sales in April 2011:
189 units sold
$121,680 average sale price
95.0% sale-to-list price ratio
99 average days on the market
What's happening in the Champaign, IL housing market?
As we move into the summer months, total home sale numbers steadily increase while the absorption rate falls, an expected seasonal change. I would caution against putting much weight in the high average sales price figure this month compared to a year ago as these numbers can fluctuate significantly month to month. The number of homes on the market at month-end stood at 1,797 compared to 2,062 a year ago, a significant difference, and our low inventory has been a trend in the Champaign market for nearly six months.
One thing worth mentioning is the current interest rates, which are again historically low. If you're not planning on moving but you currently own your home, you may want to research the possibility of refinancing, speak with a local lender, and determine if it makes sense for you.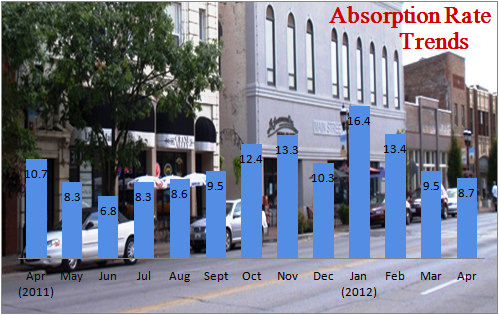 *This information is deemed reliable, but not guaranteed. Statistics are from the Champaign County Association of Realtors®