Category:
Real Estate Market Reports
Home Sales Statistics: May 2012 versus May 2011
These statistics include houses, condos, co-ops, and zerolots in greater Champaign County.
Home Sales in May 2012:
282 units sold
$152,331 average sale price
95.8% sale-to-list price ratio
108 average days on the market
Home Sales in May 2011:
251 units sold
$133,423 average sale price
95.6% sale-to-list price ratio
96 average days on the market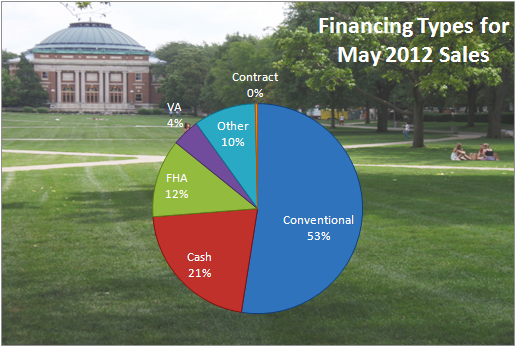 What's happening in the Champaign IL real estate market?
A year ago the Champaign IL housing market was hurting, and there were several trends keeping it that way through most of 2011. There were too many homes on the market, in other words too much competition, but not enough buyers to reduce that inventory and stabilize the market. The absorption rate stayed at 7 months or higher (stable real estate markets have 5-6 months of inventory). And homes listed in the uppermost price ranges were, overall, just not selling.
However, so far for 2012, we're seeing improvement. Champaign County's inventory of homes on the market has been 10% lower than last year. We've had more sales overall and homes in the uppermost price ranges are finally selling, too. Our housing market is finally reaching a far more stable point than we've seen in years. Of course, the question is always, will it stay this way. No one has the answer. But May was a great month for the Champaign housing market and I think we're all looking forward to what the coming, busy summer months will bring.
*This information is deemed reliable, but not guaranteed. Statistics are from the Champaign County Association of Realtors®
Original Post on blog