Category:
Real Estate Market Reports
Home Sales Statistics: June 2012 versus June 2011
These statistics include houses, condos, co-ops, and zerolots in greater Champaign County.
Home Sales in June 2012:
352 units sold
$166,223 average sale price (please note: this does not mean prices are increasing. read below)
96.1% sale-to-list price ratio
91 average days on the market
Home Sales in June 2011:
306 units sold
$138,171 average sale price
95.9% sale-to-list price ratio
96 average days on the market
What's happening in the Champaign IL real estate market?
It is proving to be a great summer for the housing market in Champaign-Urbana IL. Total number of homes sold in June is up compared to June of 2011, our inventory has remained relatively low, and homes in the uppermost price ranges have sold in greater numbers this year compared to the last few years. This last factor has brought the average sale price up significantly this month, and it's important to note that this increase is NOT reflective of a substantial increase in home values, in general. With an absorption rate of approximately 5.2 months at the end of June, we have a stable market at this point in the year.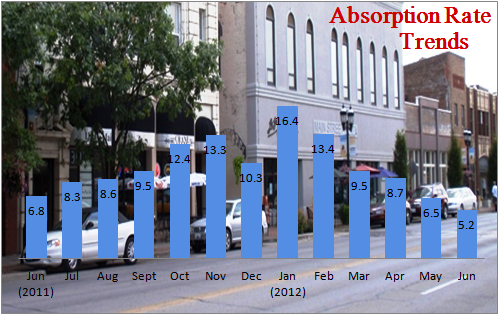 *This information is deemed reliable, but not guaranteed. Statistics are from the Champaign County Association of Realtors®