Category:
Real Estate Market Reports
Home Sales Statistics: Augst 2012 versus August 2011
These statistics include houses, condos, co-ops, and zerolots in greater Champaign County.
Home Sales in August 2012:
312 units sold
$157,605 average sale price
95.5% sale-to-list price ratio
94 average days on the market
Home Sales in August 2011:
239 units sold
$149,541 average sale price
95.1% sale-to-list price ratio
93 average days on the market
What's happening in the Champaign IL housing market?
Almost every month so far for 2012 we've seen increased sales and decreased inventory compared to 2011 resulting in a more stable housing market than we've had in years. As mentioned in previous reports, Champaign-Urbana homes are finally selling in the uppermost price ranges this year, driving up the average sale price, though prices in general have remained stable. For those who have been hesitant to believe that the real estate market in Champaign is improving, it may be time to concede. While we may not be totally out of the woods, things are certainly looking up for our local housing market.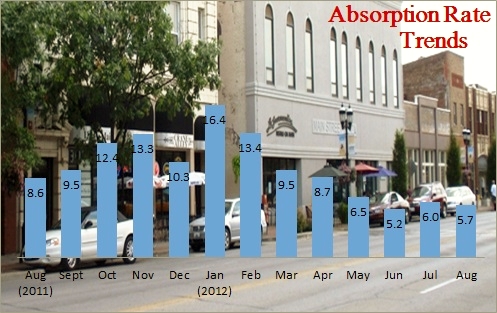 *This information is deemed reliable, but not guaranteed. Statistics are from the Champaign County Association of Realtors®